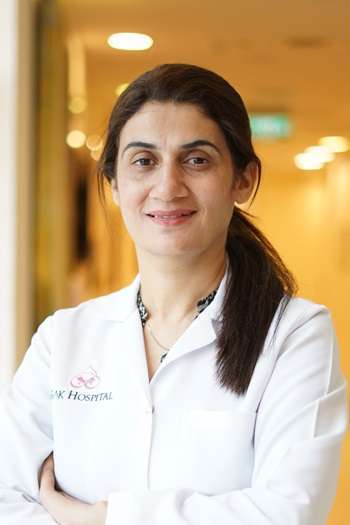 Dr. Rubia Salman
Speciality: Radiology and Imaging
Designation: Specialist Radiologist
Qualification: MBBS, FCPS (Diagnostic Radiology)
Languages Spoken: English, Urdu
Experience: Over 11 years
Dr. Rubia earned her MBBS in 1998 from the prestigious King Edward Medical University in Lahore, Pakistan. She holds a fellowship in Radiology from the College of Physicians and Surgeons of Pakistan and is currently pursuing FRCR from the Royal College of Radiology in London (FRCR-1). Furthermore, she is a registered medical practitioner in Pakistan, Saudi Arabia, and the UAE. She is an active member of the Radiology Society of Pakistan and the European Society of Radiology.
Before joining RAK Hospital, she worked as an Assistant Professor at Dow University of Health Sciences in Pakistan, teaching undergraduates and postgraduate students of FCPS, MD, DMRD, and also conducting training for radiology technicians in BS and MS courses. She has also worked in various organizations in Pakistan, such as District Health Hospital as a Women Medical Officer, Military Hospital, Tertiary Care District Hospital, and Tertiary Care Lady Willingdon Hospital. She has tremendous work experience in women's imaging, abdominal MRI, reporting hepatic and renal transplant cases, CT angiographies, MSK MRI, and expertise in reporting Oncoradiology.
She has been conducting multidisciplinary tumor board meetings, taking on decision-making roles in complex cases. As part of her experience, she has attended various workshops on different modalities of radiology. Dr. Rubia has numerous research papers to her credit, which have been published in international radiology journals.
Dr. Rubia's expertise includes:  
PET CT – Whole Body Imaging
MRI – 3/1.5 Tesla (Neuroimaging, Neurography, Musculoskeletal, Abdomen, MRCP, Breast/Prostate, Sleep apnea protocol, Enterography, Urography and Cardiac MRI)
CT Scan: 64/128 slices(Brain, Chest, Abdomen, PNS, Temporal bone imaging, CT Enteroclysis, CT Urography, CT Coronary, CT Aortogram / Circle of Willis and Peripheral Angiography
Ultrasound: Routine scans, Obstetrics, High resolution ultrasound for breast, scrotum and thyroid etc.
Doppler study: Carotid, Peripheral Arterial / Venous, Renal Arteries and Portal Vein
Digital, Sono and MR Mammography
Digital X-ray (Barium procedure, HSG, IVP, RGU, MCUG)
USG Guided Interventions (Biopsy, FNAC, Fluid Aspirations)