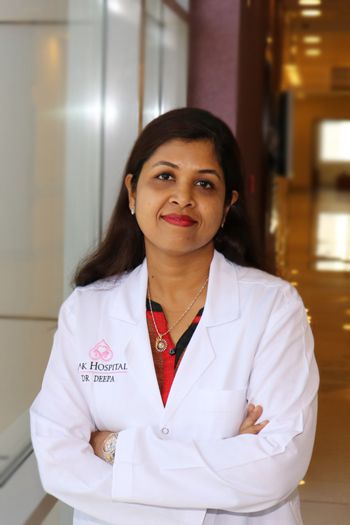 Dr. Deepa Panackal Elias
Specialty: Anesthesiology and Intensive Care Unit
Qualification: MBBS, DA, DNB
Designation: Specialist Anesthesiologist
Languages Spoken: English, Hindi & Malayalam
Experience: 16 years
Dr. Elias obtained her MBBS degree from Kasturba Medical College, Mangalore, India in 2000 and Post-graduate Medical Diploma in Anesthesiology (DA) from Kasturba Medical College, Manipal in 2003. Both institutions are under the prestigious university – Manipal Academy of Higher Education, India.
She further pursued her clinical experience with a DNB course in Medical Trust Hospital, Kochi, Kerala, one of the most reputed hospitals in India and obtained a Diploma of the National Board (DNB) in Anesthesiology in 2008, issued by National Board of Examinations, New Delhi, India. Dr. Elias also served as a lecturer and senior resident in Medical College Hospital, Kottayam, a 1,500-bedded multi-disciplinary tertiary care teaching hospital.
Dr. Elias has experience in anesthetic procedures in General Surgery, Obstetrics & Gynecology, Orthopedic and Trauma Surgery, Neurosurgery, Pediatric Surgery, Ophthalmology, ENT, Urology including Renal Transplant, Cardiothoracic surgery, Plastic and Reconstructive Surgery.
Furthermore, she is experienced in difficult airway management and resuscitation, basic and advanced cardiac life support, management of critically ill patients and deceased organ donor management etc. She is a life member of Indian Medical Association (IMA) and Indian Society of Anesthesiologists (ISA).
She was a consultant Anesthesiologist with Caritas hospital, a NABH accredited and ISO 9001:2008 certified tertiary-care multispecialty hospital in Kottayam, Kerala, before joining RAK Hospital.