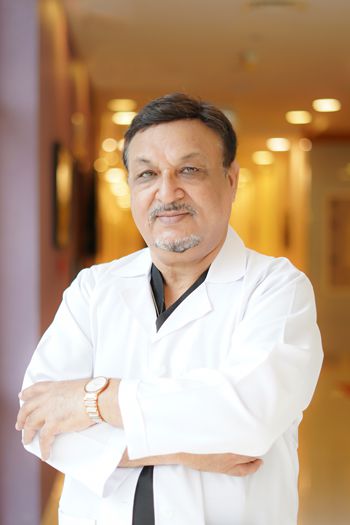 Dr. Yash Gulati
Specialty: Orthopedic Surgery
Designation: Specialist Orthopedic Surgeon (Visiting)
Qualification: MBBS, MS (Orthopedic), Dip. Sports Medicine (Dublin), MCh Orthopedic (UK)
Languages Spoken: Hindi, Urdu, English
Experience: Over 32 years
Dr. Gulati's specialization includes:
• Joint replacement surgery (Especially Partial or Half Knee Replacement, Computer Navigation for Knee Replacement and Hip Replacement)
• Minimally Invasive Spine surgery
• Sports medicine
MAKE AN APPOINTMENT
Dr. Yash Gulati is an internationally renowned Orthopedic Surgeon specializing in knee and hip replacement as well as minimally invasive spine surgery and management of sports injuries.
He obtained his MBBS in 1977 and his MS in Orthopaedicin 1982 from Maulana Azad Medical College, India. He has completed MCh in Orthopaedic Surgery in 1988 from the University of Liverpool, England, and Dip. Sports Medicine in 1994 from the Royal College of Surgeons, Dublin, Ireland. He attended training programs in various countries including USA, Canada, Germany, Italy, Thailand, Malaysia, Singapore, and Brazil.
He is the youngest orthopedic surgeon to have been awarded the Padma Shree by the President of India. Padma awards are the second-highest civilian awards conferred by the President of India for exceptional service.
He operated on the former Prime Minister of India, treated dignitaries from various countries, international cricketers, diplomats, and a large number of patients from different countries.
Dr. Gulati has super-specialized in partial or popularly known as Half Knee Replacement and popularized it in India. He introduced this technique for the first time in Ras Al Khaimah, UAE. He has done the largest number of Knee Replacements using I – Assist Gyroscope based computer navigation system for knee replacement.
He has been doing Primary & Revision Knee & Hip Replacements for over 30 years and has performeda large number of surgeries with excellent results. He was invited to perform a live demonstration of Knee Replacement and Hip Replacement Surgery at the Golden Jubilee Conference of the Indonesian Orthopedic Association in Solo, Indonesia, and many other centers in India and abroad.
He is a recognized teacher for the super specialization FNB (Fellow National Board) course for Joint Replacement in India.
He was the first Indian orthopedic doctor to having done Endoscopic Disc surgery for Slipped Disc in India. He is amongst a handful of surgeons doing Minimally Invasive Trans Foraminal Inter-Body Fusion (MITLIF).
He worked in the UK and Ireland for many years before returning back to India. He is currently a Senior Joint Replacement, Sports, Spine & Orthopedic Surgeon, at Apollo Hospital in New Delhi.
Dr. Gulati is enjoying an illustrious career and has held prestigious positions such as Hon. Surgeon to President of India, Hon. Surgeon to Indian Armed Forces, Hon. Surgeon to Border Security Force, Adjunct Professor of Indira Gandhi National Open University (IGNOU), Hon. Surgeon of Board of Cricket Control in India, and Hon. Consultant Sports Rehabilitation, Government of Uttar Pradesh in India.
He has given more than 500 lectures and has numerous scientific papers to his credit which have been published in various national and international journals. He also contributed a chapter in a textbook.
Dr. Gulati believes that "being a doctor is a profession that may be considered a special mission, and devotion. It calls for involvement, respect, and willingness to help all people."