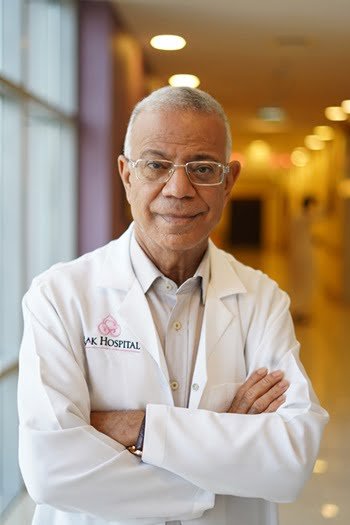 Dr. Talaat Matar Tadross
Specialty: Psychiatry
Designation: Consultant Psychiatrist (Visiting)
Qualification: MBChB, M.D.Ph.D. in Psychiatry
Languages Spoken: Arabic, English
Experience: Over 43 years
Dr. Talaat Matar Tadross earned his MBChB in Medicine & Surgery in 1977 from Tanta University, Egypt. He obtained his MSC in Psychological Medicine & Neurology in 1983 and his MD in Psychiatry in 1999 from Cairo University, Egypt. He is a member of different Psychiatric Associations in the UAE & Egypt such as the Editorial board of the Arabic version of the world journal of Psychiatry Association, Arab Gulf Psychiatric Association, and Egyptian Psychiatric Association. His areas of expertise include Bipolar disorder, Schizophrenia, and related disorders, Obsessive-Compulsive disorder, Psychosomatic disorders, Personality disorder, Anxiety disorder, Phobias, Depression, and Child psychiatry.
Dr. Tadross is a Professor of Psychiatry at the prestigious RAK Medical and Health Science University (RAKMHSU) since 2008. He has numerous clinical researches, publications, and dissertations to his credit. Furthermore, he has attended a multitude of conferences, trainings, courses, seminars, and workshops nationally and internationally such as in France, USA, Canada, London, Italy, Scotland, Germany, Spain, Czech Republic and Sweden amongst others.
As part of his teaching activities, he had appeared in a weekly TV program entitled "Psychology in daily life" on Abu Dhabi TV, and the "Drama and Life, Psychoanalytic Criticism in the Gulf" on Sharjah TV. He has received an award from the Emirates Sports & Cultural Club for Psychological Counseling of the first football team. Dr. Tadross's hobbies and interests are reading especially in literature, poetry, and philosophy. He also loves writing poetry, and essays.