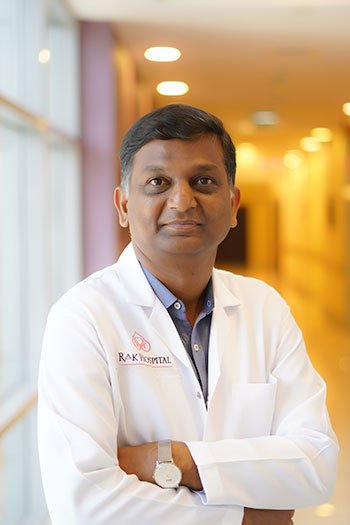 Dr. Muthuraman Muthukaruppan
Specialty: General Surgery
Designation: Specialist General Surgery
Qualification: MBBS, MS (General Surgery)
Languages Spoken: Hindi, Tamil, English
Experience: Over 10 years
Dr. Muthuraman earned his MBBS in 1999 from the Stanley Medical College, Chennai, India, and completed his MS in General Surgery in 2004 from Kilpauk Medical College, Chennai, India. He is an expert in handling all general surgical procedures such as Hernia, Thyroid & Salivary gland excisions, Varicose Vein surgery, Mastectomy, Haemorrhoidectomy, Perianal surgeries, Distal Gastrectomy, Colectomy, Splenectomy, Laparoscopy, Appendectomy, and Cholecystectomy. He also assists Gynecologists in Laparoscopic Ovarian Cystectomy and Laparoscopy in Ectopic pregnancy surgeries.
Dr. Mohsen has experience in clinical teaching to undergraduate and post-graduate students. As part of his experience, Dr. Muthuraman worked in different hospitals and organizations in India, UAE and Oman.
Before joining RAK Hospital he worked as an Associate Professor at KMCH Medical College, India. Dr. Mohsen has attended various conferences, training, and CME's on General Surgery.
Dr. Muthuraman specialization includes:
• Hernia – open and laparoscopic
• Laparoscopic cholecystectomy
• Laparoscopic appendectomy
• Thyroid and salivary gland surgery,
• Varicose vein surgery
• Haemorrhoids, anal fissure and fistula
• Lump and cyst excision
• Breast lump removal
• Abdominal emergencies