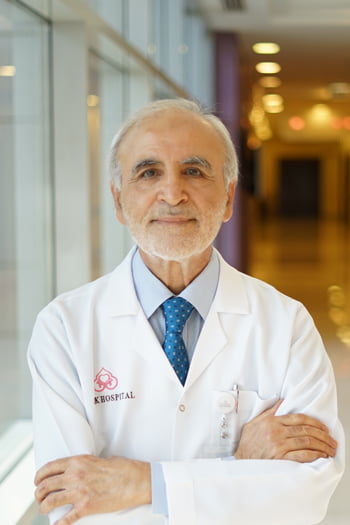 Dr. Mohammad Tawfik Ridha
Specialty: Neurology
Qualification: MBCHB, DCM (Baghdad), DCN (London), MRCP (UK and Ireland), FRCP (Edinburgh)
Designation: Consultant Neurology (Visiting)
Languages Spoken: Arabic, English, Kurdish
Experience: 48 years
Dr. Tawfik earned his MBCHB from Baghdad, Iraq, in 1972. He specialized in Medicine, Baghdad University (1977) and then in Medicine and Neurology in the UK (1984). He has built a vast experience through training and working in Iraq, UK, Oman, Dubai and RAK including experiences in the National Institute of Neurology (London) and other London hospitals.
In 1988, he became involved in teaching medicine and neurology to postgraduate Iraqi and Arab Board students in Baghdad. He was elected as the Dean of "Al Rasheed Faculty of Higher Medical Specializations", which supervised Iraqi Board students in all medical specialties.
In 2007, he was appointed as "Consultant (A) Neurologist and Physician" and "Head of Neurology Department" in IBHO Hospital, RAK, till 2020. In recognition of its achievements in Stroke Thrombolysis, the "Stroke Team" of the hospital has received three World Stroke Organization (WSO) Awards – two "Platinum Status" in 2019, and one "Diamond Status" in 2020, being the first in the UAE to get these international awards.
Dr. Tawfik is a Professor in RAK Medical and Health Sciences University (RAKMHSU) since 2008. He has supervised numerous published Board and PhD theses in addition to his publications in local and national journals in various neurological topics including migraine, multiple sclerosis, movement disorders, epilepsy, cerebrovascular accidents and neurobrucellosis. Dr. Tawfik has also won the yearly prize of "Dubai International H Q Award" for the years: 2013, 2014, 2015 and 2017.