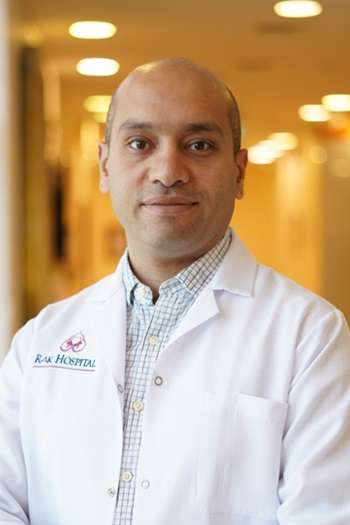 Dr. Mahmoud Korashy
Specialty: Cardiology & Interventional Cardiology
Designation: Consultant Interventional Cardiologist
Qualification: Cardiology MD, European Board Certification in Interventional Cardiology, European Board Certification in Echocardiography.
Languages Spoken: Arabic, English
Experience: Over 17 years
Dr. Mahmoud Korashy was graduated from Ain Shams University in Egypt then he earned his Cardiology MD in 2019. He did his Internal Medicine and Cardiology Residency training at the National Heart Institute in Cairo, Egypt, and obtained his Cardiology MD and training in Cardiovascular Medicine, as well as his Interventional Cardiology between 2013-2019.
Before joining RAK Hospital, Dr. Mahmoud worked as a Cardiologist & Interventional Cardiologist in Dubai Hospital for 5 years then in Fujairah hospital for 3 years.
Dr. Mahmoud Korashy attended various courses and assessment exams in USA, Italy, France, Germany, Spain, Austria, UAE and Lebanon. He has numerous research papers to his credit published in national and international journals.
Dr. Mahmoud Korashy specialization includes:
Cardiac echo and exercise tests.
Cardiac arrhythmia.
Advanced complex coronary interventions (Bifurcation, Left main and Chronic total occlusions).
Peripheral interventions.
Advanced cardiac devices (Implantation and programming)