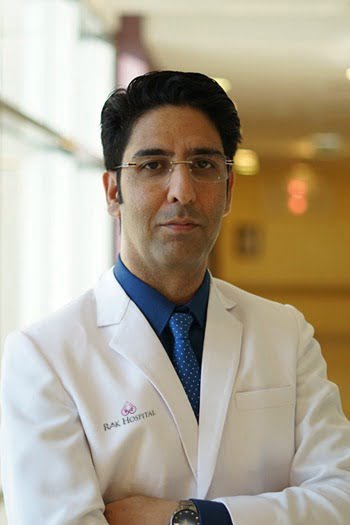 Dr. Imran R. Rangraze
Specialty: Internal Medicine
Designation: Specialist Internal Medicine (Visiting)
Qualification: MD (Internal Medicine), MRCP (UK), FRCP (London), FACP (USA)
Languages Spoken: English, Hindi, Urdu, Punjabi
Experience: Over 17 years
Dr. Imran R. Rangraze earned his MBBS in 2003 from Government Medical College, Srinagar, India, and completed his MD in 2008 from Sheri Kashmir Institute of Medical, Srinagar, India. He qualified for the internationally approved three-part RCP examination and became a member of the Royal College of Physicians (MRCP) in the UK. Based on his experience, clinical acumen, research, and teaching capabilities, he was awarded the prestigious Fellowship of the Royal College of Physicians (FRCP) in London, and direct Fellowship of the American College of Physicians (FACP) in the USA. He received the 'Outstanding Clinician of the year' award in the 3rd Venus International Healthcare Awards-VIHA 2020. In addition, he is a member of the British Geriatric Society (BGS) and the European Society of Geriatric Medicine (Eu GSM). Dr. Rangraze is an experienced Hospitalist, Internist, Researcher, and Reviewer with a demonstrated 17- year experience of working in internationally reputed Hospitals & Health Care industries. His areas of expertise include Hypertension, Diabetes mellitus, Thyroid disorders, Infectious diseases, Respiratory diseases, and Gastrointestinal problems.
Previously, he worked as a Consultant Internal Medicine and Assistant Professor in King Khalid University, Aseer Central Hospital for more than 5 years and earned a great deal of respect among his peers and patients.
Dr. Imran R. Rangraze is a Professor at the prestigious RAK Medical and Health Science University (RAKMHSU) since 2016. He has published numerous research papers and publications in various national and international publications as well as lectures and presentations to his credit. Furthermore, he is a friendly, enthusiastic and an active healthcare volunteer who works in tandem with the Emirates Red Crescent Society to serve the community.