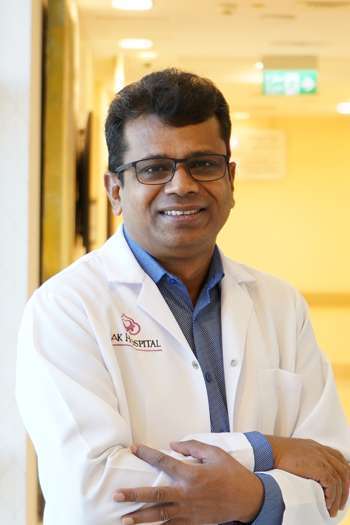 Dr. Debaraju Reddy Esuru
Specialty: General Surgery
Designation: Specialist General Surgery
Qualification: MBBS, DNB (Surgery)
Languages Spoken: Hindi, Telugu, Oriya, English
Experience: Over 22 years
Dr. Debaraju earned his MBBS in 2000 from Veer Surendra Sai Institute of Medical Sciences and Research (VIMSAR), Orissa, India. He completed his General Surgery post-graduate training from Northern Railway Central Hospital, New Delhi, India and earned his Diplomate National Board (DNB) General Surgery from National Board of Examinations (NBE) in 2014. He is comfortable in handling all general surgical cases with keen interest in abdominal surgeries, basic laparoscopic procedures, basic pediatric surgeries, proctology, podiatry & diabetic foot and basic plastic surgeries.
Before joining RAK Hospital, he was associated with various private and government hospitals in India such as Mediversal Hospital, Apollo Spectra Hospitals, Saraswati Hospital, SLG Hospitals, AIIMS, ESI Hospitals, KIMS and Medicover Hospitals. He is a lifetime member of Association of Surgeons of India (ASI), Association of Minimal Access Surgeons in India (AMASI) and Indian Association of Gastro Endoscopic Surgeons (IAGES).
He has several fellowships like Associate Fellowship in Industrial Health (AFIH), Fellowship in Minimal Access Surgery (FMAS), Diploma in Minimal Access Surgery (Dip. MAS), and Fellowship in advanced Laparoscopy Surgery (FALS). He attended several conferences and workshops in General & Laparoscopic Surgery across India. He has numerous research papers, presentations, and publications to his credit. Dr. Debaraju is known for his quality patient care, positive friendly nature, and leadership skills. He believes in patient first and always right approach.