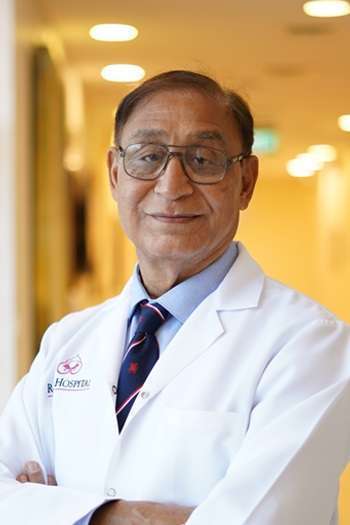 Dr. Azam Yusuf
Specialty: General Surgery
Designation: Consultant – General Surgery
Qualifications: MBBS, MCPS, FCPS, FRCS (UK)
Languages Spoken: English, Urdu & Punjabi
Surgical Experience: Over 34 years
Prof. Azam Yusuf was Consultant & HOD General Surgery at Sheikh Khalifa General Hospital, Umm Al Quwain-UAE for 8 years 2013-2021. At the same time for 6 years, he was Adjunct Clinical Professor of Surgery & Examiner of Final MBBS University Exam at Sharjah University College of Medicine, Sharjah-UAE. Before joining SKGH, he was Consultant General Surgeon at Saudi German Hospital, Dubai-UAE in 2012. Now he has joined RAK Hospital in Feb. 2023.
Before coming to UAE, Dr. Azam Yusuf was Professor of Surgery at Rawalpindi Medical University, Rawalpindi-Pakistan & Consultant & HOD Surgery Department in the Allied hospitals for over a decade. He was Teacher of Medical Students, Supervisor of Postgraduate Surgical Trainees, Examiner of undergraduate & postgraduate surgical exams, Author of 25 publications, Assessor of Thesis & Peer reviewed Articles for publications for more than two decades in Pakistan.
Dr. Azam Yusuf graduated from King Edward Medical College, Punjab University, Lahore-Pakistan in 1978. His postgraduate surgical training was in Mayo Hospital, Lahore 1981-1988. He achieved his first Fellowship in Surgery from the College of Physicians & Surgeons of Pakistan in 1985. In 1988 he proceeded to UK for higher training, where he completed his Certified Surgical Training by the Royal College of Surgeons of England 1988-1990 in Sunderland-UK and achieved the second Fellowship in Surgery (FRCSEd) from the Royal College of Surgeons of Edinburgh in 1989.
Dr. Azam Yusuf's specialization includes:
Thyroid Surgery-Thyroidectomies for Goiters
Breast Surgery-Excision of lumps, Mastectomies, Reduction of male breast enlargement
Laparoscopic Surgery (Cholecystectomy, Appendectomy, Diagnostic)
Abdominal Surgery -Elective & Emergencies
Selective-Hepatobiliary, pancreatic, splenic & colorectal surgery
Anorectal Surgery- Hemorrhoids, Anal Fistula & Fissures
Ventral Hernia & Abdominoplasties
Hernia Surgery, Hydrocoele, Varicocoele in adults & children
Pilonidal Sinus Surgery, Rhomboid Flap
Varicose vein surgery-Ligations & stripping
Skin & Soft tissues surgery, Lumps, Cysts, Abscesses
In growing toe nails, Acute Paronychia
Minor Surgical Procedures under Local Anesthesia