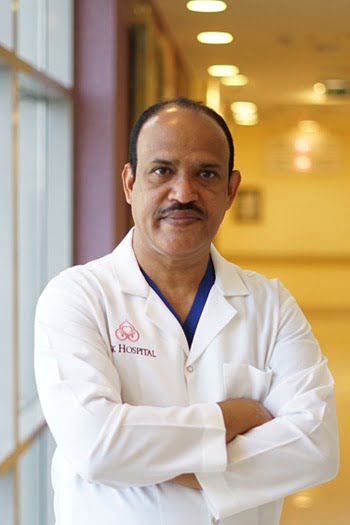 Dr. A.K. Sahu
Specialty: Radiology and Imaging
Qualification: MBBS, MD (Radio-Diagnosis)
Designation: Senior Specialist Radiologist and Head of Department
Languages Spoken: English, Hind, Odiya
Total Experience: 18 years
Dr. A.K. Sahu earned his MBBS in 1998 from V.S.S. Medical College, Burla, Odisha, India and his M.D. in Radio-Diagnosis in 2003 from S.C.B. Medical College, Cuttack, Odisha, India. He has worked in various hospitals in India as a Consultant Radiologist and has past experience in the U.A.E and moreover in RAK Hospital as a Specialist Radiologist. He efficiently manages the diagnosis of human body using digital X-ray, Mammography, Ultrasound, Doppler, CT Scan, PET CT and MRI studies.
His expertise includes:
PET CT – Whole Body Imaging.
MRI – 3/1.5 Tesla (Neuroimaging, Neurography, Musculoskeletal, Abdomen, MRCP, Breast/Prostate, Sleep apnea protocol, Enterography, Urography and Cardiac MRI).
CT Scan: 64/128 slices(Brain, Chest, Abdomen, PNS, Temporal bone imaging, CT Enteroclysis, CT Urography, CT Coronary, CT Aortogram / Circle of Willis and Peripheral Angiography.
Ultrasound: Routine scans, Obstetrics, High resolution ultrasound for breast, scrotum and thyroid etc.
Doppler study: Carotid, Peripheral Arterial / Venous, Renal Arteries and Portal Vein.
Digital, Sono and MR Mammography.
Digital X-ray (Barium procedure, HSG, IVP, RGU, MCUG).
USG Guided Interventions (Biopsy, FNAC, Fluid Aspirations).